PTA
If you would like to contact the PTA for more information on events, or you can offer help to any events please email: pta@theydonbois.essex.sch.uk
Chair - Joanne Bird
Secretary - Julia Peterkin
The Parent Teacher Association is a very active group which successfully raises funds to benefit all of our children.
As soon as a child is admitted to Theydon Bois Primary School parents automatically become members of the PTA. An Annual General Meeting is held in the autumn term each year, and at this meeting a committee is formed. The committee works tirelessly to organise events which range from summer or Christmas fairs, quiz nights, race nights, fashion shows and also the very popular 'Movies and Munch' afternoons for the pupils.
The PTA fully funds our well-maintained pool - without donations and raised our school swimming programme would not exist, or be a successful and enjoyable experience.
Over the years the PTA has funded much of the playground equipment such as the basketball area, activity boat, equipment used at lunchtimes by the children, as well as our superb and well-used library and minibus. Our most recent purchase has been the swimming pool changing rooms, this has been an ongoing fundraising aim which we are glad to have now completed. Each year funds are used to subsidise the transport for our year 6 residential visit and from time to time other educational visits may be subsidised. Other items bought by the PTA include musical instruments, smaller equipment for classrooms, the flagpole at the front of the school, new bikes and trikes in the Early Years Foundation (Reception) playground.
Please keep your eyes open for posters and letters in your children's bags advertising events, and if you wish to become a committee member then please contact us on the email above. The PTA group is a very friendly welcoming bunch of parents and teachers. We are always looking for new members, new ideas and more input and to have some fun along the way!
Joanne Bird
Easy Fundraising
Dear Parents,Carers, Grandparents or friends ,
Did you know that whenever you buy anything online - from your weekly shop to your annual holiday - you could be collecting free donations for Theydon Bois Primary School PTA?
There are over 3,000 shops and sites on board ready to make a donation, including Amazon, John Lewis, Aviva, thetrainline and Sainsbury's – it doesn't cost you a penny extra!
It's as easy as 1, 2, 3...
1. Head to https://new.easyfundraising.org.uk/causes/theydonboisps/ and join for free.
2. Every time you shop online, go to easyfundraising first to find the site you want and start shopping.
3. After you've checked out, that retailer will make a donation to your good cause for no extra cost whatsoever!
There are no catches or hidden charges and Theydon Bois Primary School PTA will be really grateful for your donations.
Thank you for your support.
School labels
When ordering label, please quote our school number: 23503 so we get the commission.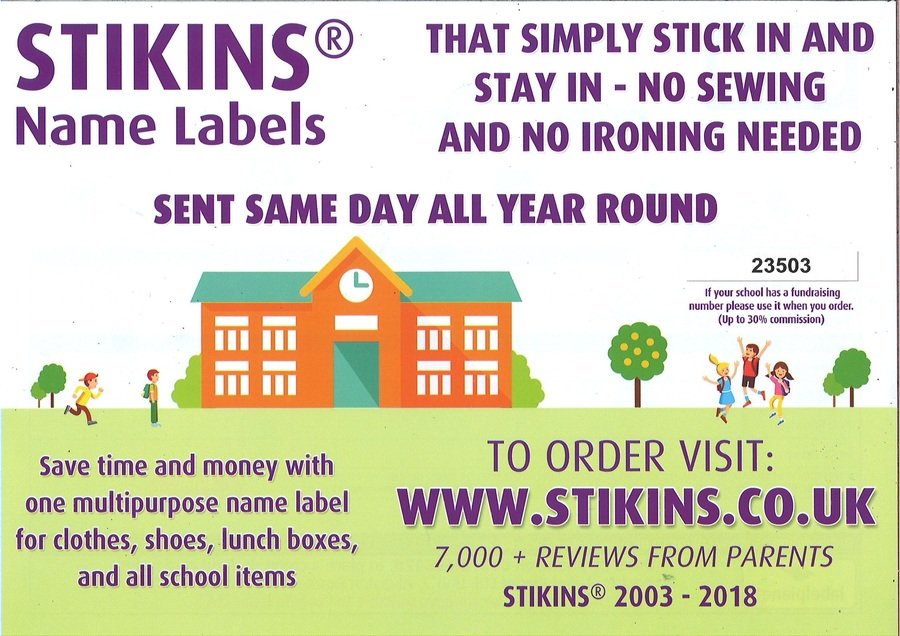 Next Events
15th June Fathers Day Stall
29th June SUMMER FUN COLOUR RUN!
18th July Leavers Disco
5th November Fireworks Night
8th December Christmas Fair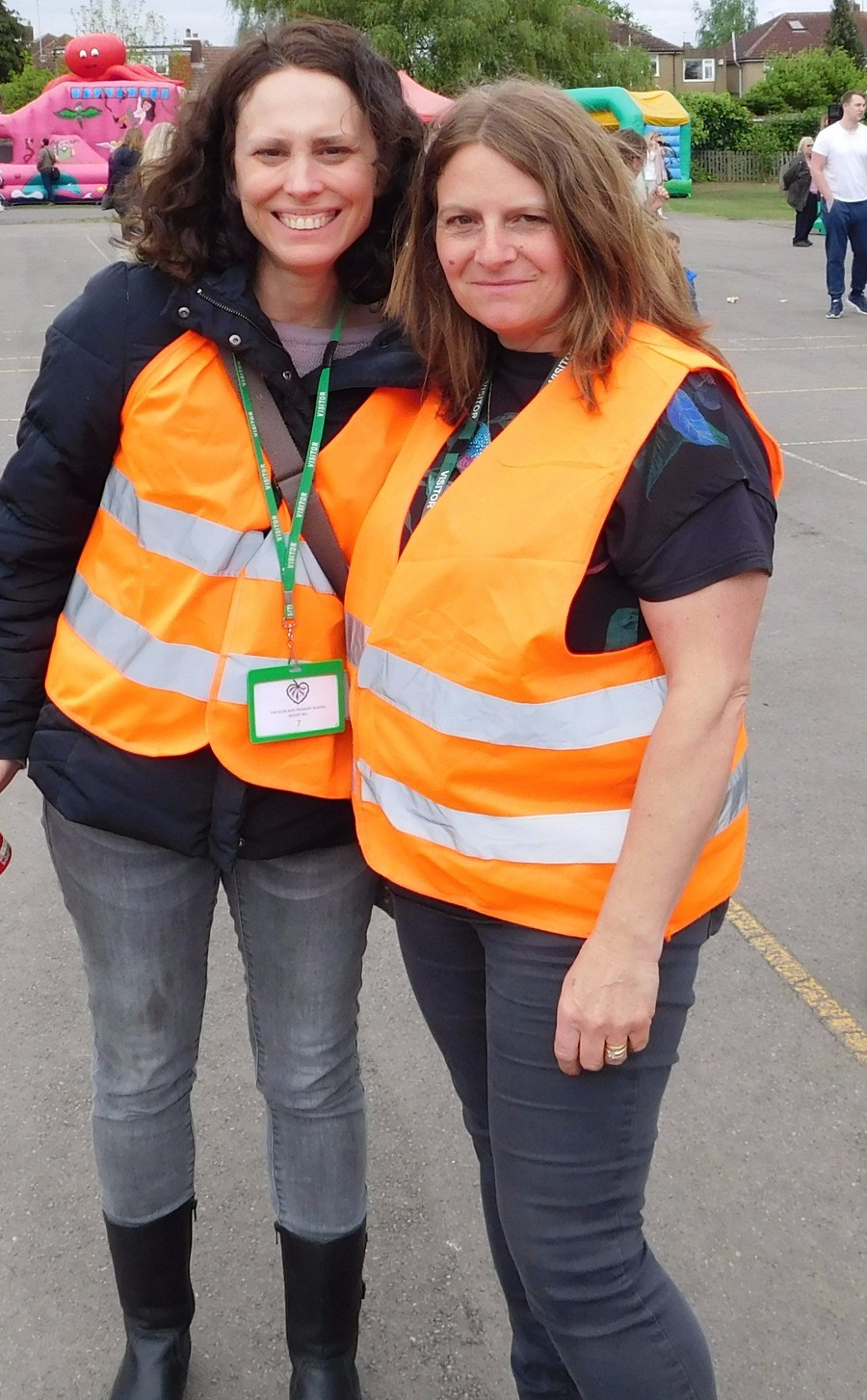 Our swimming pool banner designed by children of the school. Happy swimming and a thank you to Mr Bristow for putting thebanner up.
PTA News
We have now installed the new changing rooms, replaced the pool liner and cover, cleaned the patio around the pool and have a new blank canvas for a fresh mural. Soon we hope to have enough money to repair the broken boiler part, so the pool will be as good as new!
Regards
Joanne Bird PTA Chair pta@theydonbois.essex.sch.uk
Another successful Christmas Fair 2017, thank you to all involved in making it happen, and thank you to those that came and support us.
Fireworks
We raised just shy of £3000. A massive thank you to our sponsor Butler & Stag, Michael from Quality & Excellence for the lovely burgers and sausages and Tony for our PA and music.
Thank you to all who came along to support us, we have heard lots of good feedback.
Thank you also to our PTA volunteers for serving toys, teas and BBQ. For setting up and tidying away. School staff for manning the gate, supervising the field/playground and helping clear away. Wouldn't have happened without you!
Our new changing rooms, cleaned pool area and new blank canvas for a mural.
May Fair in Celebration of our 60th Anniversary
Demolition of the old changing rooms and install of the new ones.
Christmas Fair 2015
Thank you to all that helped and attended, another successful year with profits of £3500.
Photographs supplied by Tony Ames and Tracy Bullock
The quiz night raised £800! with the help of three generous donations, thank you to James Crossley, Curtis Metal Designs Ltd and Trim Loft.
The Circus
THEYDON Bois Primary School had a real treat in June when the circus rolled into its grounds. Happy's Circus rumbled in with their big top and set up on the playing field.
The school children were invited to have a look around as the circus folk set up on the Friday ready for the big show on the Saturday 27th.
The PTA opened the event at 12.30pm with a barbecue, refreshments, a bar and stalls before the main event began at 2pm.
And every seat - all 600 of them - was sold out by the time the show started.
The children were enthralled by the clowns, Pip and Mr Happy as they launched into their routine.
Even the adults were soon laughing at their fun, high jinks and magic.
Also offer was sword balancer Micaela Cardona who managed to climb a ladder whilst holding a flaming candlabra in her teeth! Acrobat Serhiy Valkiv wowed the crowds on his high straps as he came in dressed as Spider Man. He later performed another routine, balancing on rolling cylinders. There was also another aerial acrobat and a juggler who managed to perform his routine throwing five tennis rackets.
The event was wrapped up by clowns Pip and Mr Happy who had the children screaming with delight as they were sprayed with water from a fire extinguisher as part of the finishing act. On a superbly hot day it was a brilliant ending.
For the PTA there was another happy ending as the event managed to raise approximately £3800 - with a possible extra £1000 in match funding - for their coffers.
PTA chair Nik O'Flynn said: "It was a great event and I hope one that everyone will remember for a long time. We had a fantastic turnout, great weather and a lot of support from helpers and circus-goers who dug deep for the refreshments and the stalls."
Mothers' Day stall
We held our stall on Friday March 13th this year and each class was invited to come in and select gifts for their mums or grandmothers. This is always a fun stall to work for the PTA as it is a wonderful chance to see the children thinking hard over what gifts to select. Because we had a little bit of stock left over from our previous stall we made a huge profit of £800 on the day.
Fish and Chip Quiz Night
We held our quiz night at the school on March 6th and it was a roaring success! Parent James Crossley devised the questions and all agreed they were a great selection of general knowledge and popular culture. There was a music round, a TV round a few picture rounds as well as sport, current affairs etc. The fish and chips were delivered by Nick's Fish Bar in Loughton and were piping hot when they arrived. People brought their own booze and some very fancy wine glasses in some cases which added to the fun.
There were a few fun games thrown in such as heads and tails and a raffle to net the PTA a whopping £824.
Localgiving.
The PTA is having a big campaign to replace the school swimming pool changing rooms and also the pool's liner - as all are in a state of disrepair. This is an expensive activity as you can imagine, but parents, grandparents, carers etc can help by supporting our events or donating directly to our fund. We have made this as simple as possible by creating a localgiving account.
To make a donation, please go to: https://localgiving.com/charity/theydonboisprimarypta
All donations gratefully received!
Movies and a Munch
This event raised approximately £291 for the PTA. There was a good take-up of children with 99 younger ones watching in the hall and 26 Year 5s and 6s in Ms Saggers classroom.
Christmas Cards
We had a great response to the Christmas Card scheme with many parents, carers and relatives buying their child's designs on cards, gift tags and mugs etc. As we got the order in early the PTA received a better percentage from the firm, Class Fundaising, and therefore managed to make a profit of £541.64 - our best total yet for this scheme.
Fireworks' Night
This event seems to get more popular every year and is a real social point in the Theydon calendar now. We managed to keep a tally of how many people came and it appears that at least 1200 people attended. On the night we had a great team of volunteers which meant we had plenty of people to man the stalls. The display was as spectacular as ever and we hope everyone enjoyed it. This year we presold the flashy toys in the playground at school pick-up and also had two toy stalls on the night which seemed to ease the queues somewhat. The event raised a bumper £3,962, so thank you everyone for your support.
New Stage
This year the PTA has been mainly focusing on raising as much money as possible for the Swimming Pool changing rooms which need replacing. However, we were also able to fund the new stage for the school after the old one was condemned! The new one is far superior and is made up of separate square sections like tables. These can be easily stacked up in a small

space, so can

be kept in the hall. It also means it is a lot easier to use the stage at a moment's notice for any event. Any configuration of the sections can be used so it is very versatile. The cost was around £1,000 and the PTA

were

more than pleased to help.
Big Shed Clear-out
The PTA volunteers have had a massive spring clean of their four - yes, four - sheds that hold all their equipment in the school grounds. Many PTA members helped this task which was quite hard

work but

well worth the effort. The sheds are now far easier to use as you can actually get

in

them for starters! A lot of broken pieces of gazebo poles accumulated over the years are now helping plants grow on Theydon's allotments!
The big

clearout

also meant we could

donated

one shed to Year 3/4 to use as a quiet space for pupils to read to their teachers.
There

was

also some strange items located in the depths of the sheds including a shopping trolley, fish tank and several wooden rabbits on wheels!
Photos supplied by Tony Ames
Summer Fair
The theme for this year's summer fair was Under The Sea - but thankfully everyone managed to keep dry as the anticipated rain stayed away and gave way to sunshine.
There were three bouncy castles with appropriate sea-like themes and this year one was dedicated to the under-fives who paid less for their wristbands.
And this year local DJ Tony Poole brought his sound system along for nothing to keep the parents bopping while the children were bouncing.
Children were encouraged to use chalk to draw a huge under-the-sea mural across the middle of the junior playground. There were also a host of their fun stalls such as the Despicable Me tombola where children had to put their hands into blue jelly to pull out a marked marble to win. This mucky dip proved very popular.
There was also candy floss and popcorn supplied free by Emma Sophocleus who also gainfully manned the stall with her sisters. Riverway Foods supplied the sausages for the barbecue and Russell Kemmish came along as Bubble-Oh-Seven to entertain the children with his magic bubbles.
There were also a host of stalls from local businesses as well as craft making, kids cocktails and sweets and toy stalls all manned by PTA volunteers, staff and parents/carers at the school.
The day before the school had let the pupils wear what they liked - as long as they brought a bottle in. This had an overwhelming response with hundreds of bottles of booze, face cream, pop, and all kinds of interesting goodies being brought in. These were then won on the tombola stall which was a roaring success.
The event raised about £2,800 in total. The promotional estate agent boards from James Sear brought in £300 and the brochure which went in the school bookbags the day before raised another expected £400.
PTA joint chair Zoe Souber said: "We are delighted with how the fair went - especially given the dire weather forecast beforehand. There was a really good fun atmosphere at the event and everyone seemed to be enjoying themselves thoroughly - children and parents alike. I'd like to thank all those people who put so much effort into making it such a great day."
Mothers' Day Stall
This year's Mothers' Day stall was a great success. All the children were taken class by class into the demountable where they could buy a gift for their mother, grandmother or

carer

. The idea of the stall is that the children spend no more than £5 and the PTA sourced a variety of items for them to choose from ranging from 50p upwards. This is one of the

favourite

activities of the PTA volunteers as it is such a joy to see the children putting such thought into their present buying!
The remaining stock was sold off at a stall at the end of the day for a last chance for pupils, parents and carers to snap up a gift.
The amount raised was £416.83.
Balti Curry Evening £441.10
Christmas Cards £375
Christmas Fair 2013: £3,864 (inc. £431 for the brochure and £450 match-funding)

Fireworks: £3,484 (including £400 match-funding)

Movies and Munch £250

We also have a separate amount of £700 for match-funding from our treasurer.
All the money raised from our fund-raising activities goes to help the school. At the moment we are trying to raise enough money to replace the swimming pool changing rooms. This is a large project which is set to cost in the region of £80,000 and so far about £20,000 has been raised. Some more money will go towards replacing the school

stage which

made it through the Christmas

productions but

is sadly not up to the job anymore.
PTA Curry Evening
Theydon Bois Balti House hosted a curry night for the PTA which was a huge success. There were two sittings of diners: an early one where people took their children along to sample the Indian cuisine and a later one for staff, parents and carers who fancied a get-together. Headteacher Mrs Lewis also attended before having to go back to the school for a meeting.
Theydon Bois Balti House donated half the takings from the food that night to the PTA which raised a fantastic £441.10. The PTA would like to say how grateful they are to the Balti House for their generosity. Everyone who attended appeared to have a great time and the restaurant staff commented on how well the children behaved at the early sitting.
The Christmas Fair raised approximately £3,700 for the PTA with this annual event, including the brochure and match-funding. Held on the 23rd November there was a lot of support from the parents and the village as hundreds came to the event.
There was a chance for children to meet Father Christmas and get a gift as well as biscuit decorating, table flower arrangement making, bauble making and the ever-popular games hosted by Mr Kemmish. There were plenty of stalls

too including

teddy

tombola

, toy stall, cakes

etc

and a very good selection of refreshments with the turkey and the rolls donated by Theydon Bois bakery and Quality and Excellence butchers.
This year the PTA

organised

for the children to design their own Christmas cards which were then made up into proper cards and sold in packs. This raised £375 and the results looked fantastic.
Christmas Fair 2013
Thank you to Tony Ames for suppying the photographs.
Friday 5th November
This year's Fireworks Display at Theydon Bois Primary school went with the proverbial 'bang' as the pyrotechnics lit up the night sky.
The wind and rain from earlier in the week abated so that conditions were perfect on the night with a clear sky so the display could be seen in all its glory.
This year joint PTA chair Zoe Souber managed to fulfil her goal of getting a countdown started before the display and this worked particularly well.
Before the main event, the

bbq

, toys, hot drinks and sweets' stalls did a roaring trade.
Guys, which the pupils had

made

in their own time over the half term holiday, were also on display for everyone to admire. The winning one was made by Mira Mai. Second place went to Katy while in joint third place were the creations by Eloisa, Isabella and Harriette and Eleanor and Max.
Figures have yet to be

finalised but

it looks set to be another bumper year. All the money raised will go towards the PTA's fund to replace the swimming pool changing rooms at the school. This is a large project which is set to cost in the region of £80,000 and so far £20,000 has been raised.
The PTA would like to thank the numerous volunteers who helped to make the event happen, from those who battled with gazebos in high winds earlier in the day to those who helped on the stalls etc and cleared up afterwards and also, of course, the teachers and staff who marshalled the event.
PTA joint chair Nik O'Flynn said: "It was a really great night in the end. We had our doubts earlier in the day as wind and rain swept the county. It was very windy as we were trying to set up and we had a few gazebo 'casualties' before the wind settled down. Thankfully all was well in the evening and we had a great turnout. The crowd was marvellous and the countdown was good fun for everyone. We have had some very positive feedback from people who came so we are extremely pleased. We would like to thank everyone who helped and everybody who turned up and made it such a success."
Previous Events
Summer Fair 2013 £2,900
Fathers Day Stall 2013 £430
Spring Raffle 2013 £180
Mothers Day Stall 2013 £230
Christmas Fair 2012: £4494 (so far with some brochure money still outstanding)
Calendars: £276
Phoenix cards: £178
Fireworks: £2875
Bags to school: £177
Movies and a Munch: £293
An update from Firework Display and Christmas Fair 2011
Thank you to all parents and staff we have made:
£238 from the bag 2 school donations
£110.00 from the Christmas card project
Approx £4,000 at the Christmas Fair
Summer Fair 2013
The PTA raised approximately £2,900 with this year's summer fair.
The fair had a circus theme and Michael Downing from Stadium Theatre School gave a free juggling and circus skills workshop in the PTA's handmade red and white painted ring. The theme was carried through with a giant inflatable clown slide alongside other inflatable's and the stall holders wore clown wigs to boot.
As well as a giant obstacle course, free giant games, a coconut shy, Mr Bubble himself Mr Kemmish, there were hot dogs, refreshments and sweet and toy stalls. There was a good turnout from traders for the fair on June 28th who made the most of the sunshine to sell their good ranging from jewellery and personalised gifts to studio photos and beauty products.
Unfortunately the pony rides were cancelled earlier in the day when it looked like the deluge was setting in for the afternoon but this probably saved the field from being churned up.
The PTA were extremely lucky with the weather as it stopped raining just before the fair started at 3.15pm and held off until it ended at 5.30pm and even managed some sunshine.
However it was not so fortunate for the PTA members and school staff who had to set it up and clear it away in the rain but they are all hardy souls! They would like to thank everyone who turned up to give their support and especially to those parents, carers and staff who helped out manning the stalls and attractions.
On the Thursday before Mothering Sunday the PTA set up a Mother's Day stall in the school hall. All the classes came into the hall over the course of the morning to buy their mums and loved ones gifts and cards. There was a great selection of goods for the children to buy from light-up compact mirrors, decorated glasses, fancy nail files, sparkly pens to teddy bears and travel clocks.
Most of the goods were sourced from a wholesaler, though local delicatessen Belgique donated some large decorated gingerbread stars.
The event raised £230 for the PTA and hopefully resulted in some happy surprises for the mums on the Sunday. There will be a similar stall for Father's Day in June.
Many thanks to all who helped run the stall and for all the parents and carers who gave their children money to spend on it which was most of the school.
THEYDON BOIS PRIMARY SCHOOL SUMMER FAIR
FRIDAY 29th JUNE
The Theydon Bois Primary School Fair took place straight after school on Friday 29th June. The theme this year was "Seaside" and we certainly pulled out all the stops to ensure that everybody enjoyed an afternoon at the "seaside".
There was a brightly coloured pink and white striped candy floss and popcorn stand, ice cream stall, a large pink galleon bouncy castle, a couple of bouncy castles for our younger children, together with a spinning green crocodile which got faster and faster the longer you stayed on it!
Numerous events took place during the afternoon, a Punch and Judy Show, a dance display from Trish Cole and her team, together with pony rides on the Shetland ponies kindly provided by Nicky, former owner of Theydon Pet Shop.
The weather stayed fine and the sun even came out for a brief while. The B-B-Q was busy with hot dogs and burgers provided by Shaw Family Butchers. For the adults, there was plenty on offer including various refreshments and some excellent craft stalls.
All in all a very successful afternoon and we raised nearly £2,000. A big thank to all who took part and helped to make this day another successful event.